We are an internationally focused cannabis company
We are an internationally cannabis company whose main objective is to help people improve their health, well-being and life.
COMPLAINTS OF UNCONSTITUTIONALITY
PERSONAL CONSUMPTION PERMITS
In CBDBox our purpose is defined by a guiding principle; we offer our services, either in proceedings, lawsuits and/or strategic litigation that we know, that we have experience or that we are carrying out and in process.
Explore what we are doing better
Since 2018 we have worked continuously with companies within the cannabis industry globally.
LEGAL ARGUMENT
We are characterized by our specialization on the subject of cannabis, mainly personal permits.
CULTIVATION
With the personal authorizations we seek to develop the legal cultivation network.
MANUFACTURING
We supply cannabis derivatives to its diverse business divisions.
DISTRIBUTION
Distribution in order to help people improve their quality of life.
MORE THAN 620 PERSONAL CONSUMPTION PERMITS ISSUED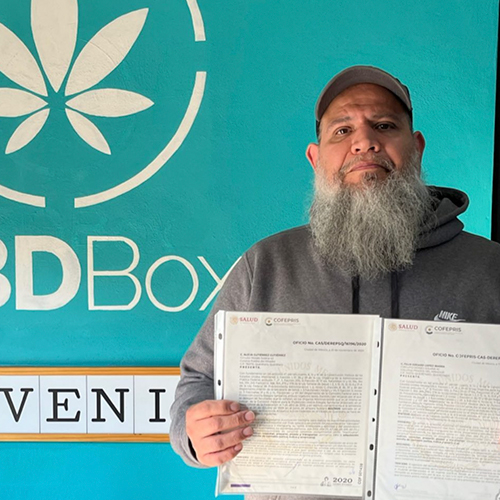 Our most requested legal procedure
health authorization for personal consumption
PERSONAL PERMIT
Frequently Asked Questions
Most frequent questions and answers
What kind of legal procedures do we perform?
We carry out all types of procedures related to the cannabis issue by means of requests or free writes to COFEPRIS. The above while awaiting a positive or negative response to proceed with strategic litigation as long as there is no cannabis law.
HOW DOES THE PERSONAL PERMIT WORK?
On october 31st of 2018, the Supreme Court of Justice "generated jurisprudence" when accepting the 5th appeal for recreational use of marihuana and considered unconstitutional some articles in the General Law of Health (235, 237, 245, 247 and 248) which forbid the harvest and intake. This being said, the appeal is legal, now judges and magistrates are obligated to grant this legal resource to whoever applies for it. Also on July 15, 2021, the articles prohibiting the personal use of cannabis were declared unconstitutional.
Yes, totally. This does not mean that the intake is legal. If a person without authorization is carrying for personal use can be detained and even though in this example there is no legal consequence, the defendant will pass through the legal procedure until a judge sets him free. Until now, anyone who wants to access the benefits must go through the legal process. 
Very easy. You have to register. You will fill a form with your information and send you official ID to start. You will receive an email with the start of your process confirming the receipt of your documents and the account to make your payment.
What is the cost of the procedure?
The total cost is $10,000MXN, the duration is approximately 12 months. The process is divided into 4 stages, the first stage is the application to COFEPRIS, the second stage is to obtain the response from the Authority, the third stage is to proceed by means of an amparo lawsuit and the last stage is the resolution of the lawsuit to obtain the personal permit.
What does this appeal allow me to do?
Although judges are obliged to approve the permit, this does not mean that marijuana is legal. The permit allows you to grow, harvest, consume, transport cannabis in all its variants. IT DOES NOT ALLOW YOU TO COMMERCIALIZE.